Pampa High School
Class of 1973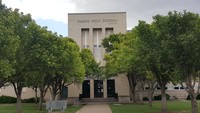 Welcome to the Official Website of Pampa High School Class of 1973
Our 50 year class reunion will be here before you know it. The dates are August 18 - 20, 2023. Click on the 50 Year Reunion link on the left to see the Schedule of Events and to register.
If you haven't been to a reunion, you need to get yourself to this one. The PHS Class of '73 is unique. Each time we meet, we take up where we left off. There's not another class like ours. "We're the class that's born to be. We're the Class of '73."
How many of you remember singing "Dear old Pampa High School, We're in love with you?" Didn't know at the time how true those words would be for so many of us. Graduation of 1973 saw many of our graduates eager to move on with their lives. Many went to college while others went to work, got married and started families. Many of our classmates relocated to far away places. Some stayed right here in Pampa. But no matter where we are now, when we come back together, it's as though we never parted. And for those who have passed on, they will always be in our hearts.
The Class of '73 Reunion Committee has already started working on the 50 year reunion. Be watching for information in coming months. And make plans to join us!!!
PHS Class of '73 50 Year Reunion Committee:
Richard Stowers, Fearless Leader
Roxane Crossman Funderburk
Nicki Fry Gittemeier
Carl Hill
Dee Holman Randall
Pam Howard Deeds
Bobbi Ingram
Carol Jackson Snapp
Melody Kilcrease Oliphant
Mickey Lee
Richard McCampbell
Becky Scribner Mayfield