Pampa High School
Class of 1973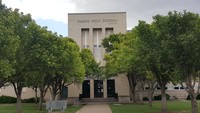 In Memory Of
James Bond
James Greig Bond
7/06/1954 - 7/13/2003
James Greig Bond, 49, died July 13, 2003, in Austin, Texas. He was a resident of Austin since 1975. Born in Ville Platte, Louisiana, in 1954, James moved with his family to Pampa, Texas, in 1959, where he attended schools and graduated from Pampa High School in 1973. As a graduate of Southwest Texas State University, and with his love of children, James pursued jobs working for Child Protective Service and the court systems to help abused children in Texas.
James was preceded in death by his mother, Elaine V. Bond; and father, Daniel W. Bond Jr. His brother, Daniel Bond of Irving; his sister, Suzanne Anderson of Houston; and his niece, Sarah Gremar of San Antonio survive him.
Memorial service will be held at Covenant Presbyterian Church in Austin, Texas, on Monday, July 28, 2003, at 2:00 p.m. Burial will be in Austin Memorial Park Cemetery in Austin.
Memorial gifts may be made to First Presbyterian Church, 525 N. Gray, Pampa, Texas, 79065 for the Helping Hand or Book of Remembrance.
Published in Austin American-Statesman on July 19, 2003
https://www.findagrave.com/memorial/100651564