Pampa High School
Class of 1973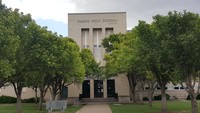 In Memory Of
Linda Couts VIEW PROFILE
Linda Darlene Couts
September 18, 1954 - January 20, 2021
Linda Darlene Couts, 66, of Sayre, Oklahoma, gained her angel wings on Wednesday, January 20, 2021 in Sayre. Linda made her grand appearance on September 18, 1954 in Groom Texas to William "Eddie" and Caroline Baggerman Couts.
In 1990, she moved to Kenefick, Texas and remained there until she moved to Sayre in May of 2020 to be close to her only child, Melissia, and her grandkids. One of her greatest passions was traveling and her employment as an accountant with Becon/Bechtel Construction allowed her to do so. She had the opportunity to live practically all over during her 33 years with the company before retiring. Animals always held a special place in her heart and in her younger years she enjoyed attending stock shows and rodeos and helping on the family farm. Linda was extremely kindhearted and didn't mind helping anyone in need. She was not afraid to try new things, loved adventure and you never saw her alone as she wasn't complete without her sister and sidekick, Marilyn. Linda was never afraid to stand up for what she believed in and didn't have an issue with voicing that. Her absolute favorite interests included anything Disney or Thomas Kincade, watching the Hallmark Channel and there isn't an old western or John Wayne move she couldn't tell you about. Her fun-loving nature will be missed by her vast family and friends that she leaves behind.
Linda was greeted at Heaven's gates by her parents and grandparents; her sister, Charlet Couts; brother, Carl Couts and brother-in-law, Bill Bridges.
She leaves behind to reminisce her life, her only child and baby girl, Melissia Gordon and husband Steve of Sayre, Oklahoma; five brothers, John Couts and wife Judy of Pampa, Bill Couts and wife Janice of Caldwell, Texas; Joe Couts and wife Cheryl of Pampa; Clint Couts and wife Gay Lynn of Pampa; and Charley Couts and wife Kandi of Pampa; two sisters, Marilyn Bridges of Kenefick, Texas and Janneice Pool and husband Keith of Eunice, New Mexico. Eight grandchildren, Bryce Gordon of Weatherford, Oklahoma; Kylie Gordon and fiancé Zach Welty of Yukon, Oklahoma; Mackenzie Gordon, Blake Gordon, Blayne Gordon, Kennedy Gordon and Garrett Gordon all of Sayre, Oklahoma; and Lindsay Cole of Stillwater, Oklahoma. Two great-grandchildren Derek Welty and Daxton Gordon. Randi Hagen of Sayre, Oklahoma who gladly helped to care for her during the last few months, and numerous nieces, nephews and extended family.
Linda will be available to pay final respects on Sunday, January 24th from 3:00pm to 8:00pm with family present to receive guests from 3-5pm at Winegeart Funeral Home.
Celebration of Life Funeral Services are scheduled for 2:00pm, Monday, January 25, 2021 at Calvary Baptist Church with Paster Rick Pearson officiating. Burial will follow in Memory Gardens Cemetery. The family has entrusted the care of their loved one to Winegeart Funeral Home.
Memorials may be made to the Oklahoma ALC Chapter, PO Box 14482, Tulsa, OK 74159 or visit www.als.org/oklahoma-service-area in honor of Linda.
To send flowers to the family or plant a tree in memory of Linda Darlene Couts, please visit our Heartfelt Sympathies Store.
https://memorials.winegeartfuneral.com/linda-couts/4503687/index.php
Click here to see Linda's last Profile entry.