Pampa High School
Class of 1973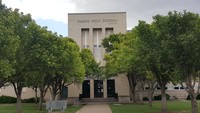 In Memory Of
David Darce' VIEW PROFILE
David Joseph "Dave" Darce'
January 21, 1954 - March 18, 2000
AUSTIN - David Joseph "Dave" Darce', 46, died Saturday, March 18, 2000. Services will be at 2 p.m. Wednesday in Carmichael-Whatley Colonial Chapel in Pampa with the Rev. David Stringer, rector of All Saints Episcopal Church of Corpus Christi, and the Rev. Todd Dyess, pastor of First United Methodist Church of Pampa, officiating. Burial will be in Fairview Cemetery in Pampa under the direction of Carmichael-Whatley Funeral Directors of Pampa.
Mr. Darce' was born Jan. 21, at Jennings, La. He moved to Pampa with his parents in 1961 and attended local schools. His interest and natural skills in woodworking were demonstrated at an early age, leading to his development into an outstanding craftman woodworker. During his approximately 20 year residence in Austin, he individually produced, or supervised, many well-received projects. Among the most notable was the production of over 100 desks and tables for the Texas State Capitol renovation project. The State Hislorical Society, which managed the procuremenls, required exact duplication to fully match the existing antique items. The resultant desks and tables are in use in the Senate and Legislature chambers and offices.
His last project, and perhaps the one of which he was most prideful, was a floor constructed in the design of a labyrinth walking pattern for the All Saints Episcopal Church of Corpus Christi. The circular pattern is 40-feet in diameter and made of contrasting walnut and maple woods. It is believed to be the only one ever made of wood.
Mr. Darce' was diagnosed with ALS (Lou Gehrig's Disease) during the time he was working on the Labyrinth and finishing it became his obsession. To his great satisfaction, it was completed and dedicated in 1998. Thereafter he was functionally unable to work his craft.
Survivors include his parents, Jo and Roland Darce' ol Pampa; a daughter, Renee Darce' of Canyon; a son, Ben Darce' of Greer, S.C.; a sister, Linda Harder of Stillwater, Minn.; two brothers, Phillip Darce' of Austin and Chad Darce' of St. Louis, Mo.; his grandmother, Mattie Combs of Malvern, Pa.; and his devoted companion, Marylyn Nichols of Austin. He was preceded in death by his wife, Sherry Darce'; and another brother, Steve Williams ol Amarillo.
In lieu of flowers, the family requests memorials be to ALS Association of South Texas, 6800 Park Ten Blvd., Suite 220 N., San Antonio, TX 78213, or BSA Hospice of the Panhandle, 800 N. Sumner, Pampa, TX 79065.
Click here to see David's last Profile entry.