Pampa High School
Class of 1973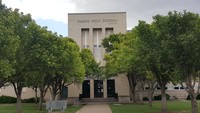 In Memory Of
David Hamlin VIEW PROFILE
Clyde David "Dave" Hamlin Jr.
January 12, 1954 - January 4, 2015
Clyde David (Dave) Hamlin Jr., 60, of Neodesha passed away January 4, 2015 in Wichita, KS at St Francis Hospital.
Cremation has taken place under the direction of Loran Fawcett Chapel, and services will be held at a later date.
David was born Jan. 12th 1954 in Caney, KS, the son of Clyde David and Roberta (Cowan) Hamlin.
He attended and graduated from the Pampa, Texas high school.
He enlisted in the United States Army in Sept. 1977 and was discharged in April of 1984.
He was united in marriage to Peggy Walker in1983 in Yates Center, KS. She survives at the home. He attended the police academy in 1987 in Salina, KS. He worked as a document server and later a deputy for the Neosho County Sheriff's Department from 1986 to1988, then worked for the Humboldt PD from 1988 to 1989, and then for the Neodesha PD from 1989 to 1998 when his health declined.
He is survived by two daughters; Allyson Hamlin of Fall River, KS and Amanda Hamlin of Neodesha ,KS and three sisters; Judith Hamlin of Lindale, TX and Wanda Newton of Chanute, KS and Darlene Plunk of Pampa, TX; four grandchildren Lane Arnold, Colt Arnold, Rylea Hueston and Patrick Hueston.
He is preceded in death by his parents and one brother.
Memorials can be made to the Neodesha Police Department Reserves and may be left at the Loran Fawcett Chapel.
http://www.loranfawcettfuneralhome.com/mobi/memorialpage.asp?page=odetail&id=56000&locid=78
Click here to see David's last Profile entry.