Pampa High School
Class of 1973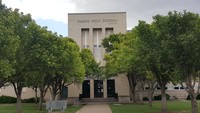 In Memory Of
Sid Mauldin VIEW PROFILE
Sidney Wayne "Sid" Mauldin
August 12, 1954 - December 14, 2015
Sidney Wayne "Sid" Mauldin, 61, of Pampa, died December 14, 2015 in Pampa.

Services will be at 11:00 AM, Friday, December 18, 2015 at Briarwood Church in Pampa, with Rev. Lynn Hancock, pastor, and Ron Fernuik, officiating. Graveside services will be at 3:00 PM, Friday, at Sid's beloved Pleasant Valley Ranch, 25 miles south of Claude on Hwy 207 under the direction of Carmichael-Whatley Funeral Directors of Pampa. His signature Red Raptor pickup will be parked at the entrance of the ranch.

Sid was born on August 12, 1954 in Augsburg, Germany. His parents brought him to Pampa when he was 9 months old where he grew up and attended Pampa public schools until his senior year when he moved to Barnsdall, Ok where he lived with Grandma Suzie on her ranch and graduated from Barnsdall High School. This was the beginning of Sid's love of land. After high school, he attended Clarendon College in Clarendon. After his marriage to Dawna Rene Miller on Friday, June 13, 1975, he decided he wanted to be a welder, so he changed his career direction and went to TSTI and graduated from their technical welding program.

Going to welding school was the beginning of Sid's lifelong journey of being able to do what no one else thought he could do. With only one eye, welding was not the best choice for a career but he pursued and started Specialty Welding & Machine in 1979 which has blossomed into SWM International Inc.

Sid loved motorcycle riding, including Enduro, Motocross, and Observed Trials. His aunt and uncle, Nadine and H. L. Meers owned the local Yamaha Bultaco Motorcycle shop, and early in his marriage, he shared the love of riding motorcycles with his wife, Dawna. They ultimately picked Observed Trials as a sport they could both enjoy and competed on the local, state & regional level for many years before moving to a new sport. After riding motorcycles for the first ten years of his marriage, he switched to slalom skiing and enjoyed many years of recreational and competitive water skiing on the local level. His Mastercraft still sits in storage waiting for the day he wanted to go out and ski once again.

One Christmas, he decided to buy Dawna a show quality Akita puppy which began their next adventure together into the Confirmation Show Ring. He was a member of the Panhandle Kennel Club and the Akita Club of America where he met many lifelong friends. He took his ring steward duty very seriously each year at the annual Christmas Dog Show in Amarillo, and he loved to see his dogs in the ring competing. The original purchase of that Christmas puppy produced a National Best of Winners and veteran dog that was produced from his very first litter.

But at the end of Sid's interest in dog showing, he turned to his love of camping and NASCAR. After being diagnosed with stage IV gastric cancer in February 2013, he turned his interest to helping start the career of a young driver named John Hunter Nemechek. Having a "dog in the hunt" gave him something to always look forward to during his many months of treatment at both Harrington Cancer Center and MD Anderson. In owner points, Sid finished 6th place in 2015 in NASCAR Camping World Series, while J. H. finished 12th place in driver points in NASCAR Camping World Series, after limited driving in 2015 because of his age. More important than the actual race was the friends he looked forward to seeing when he arrived.

Before and after Sid's illness, he had enjoyed aviation. Because he could no longer qualify for a physical medical evaluation, he bought a Carbon Cub that he enjoyed flying with Ron Fernuik and Morris Morgan. He also decided he needed a helicopter so he bought an MD500 to use on his ranch and was an accomplished student and was just about ready to solo. He always pushed himself and everyone around him.

Sid loved land and bought the perfect ranch for retirement 25 miles south of Claude in the beautiful Palo Duro Canyon where he will be laid to rest forever.

Survivors include his wife, Dawna Mauldin of the home; his mother, Gerda Mauldin of Barnsdall, Oklahoma; two brothers, Steven Mauldin of Tulsa, Oklahoma, and Shawn Mauldin of Barnsdall, Oklahoma; a special uncle, Jerry Long of Pampa; and many friends who were thought of as family, including Brian and Lois Bivolvic and Cher Phillips.

Sid was preceded in death by his father, Robert Wayne Mauldin; two aunts, Sis Barton and Marie Wills; and grandmother, Suzie Long.

The family wishes to extend a special thanks to the nurses, physicians assistants and doctors at MD Anderson Cancer Center in Houston, including Dr. David S. Hong and Eucharia C. Iwuanyanwu, PAC, for their loving care of Sid.

In lieu of flowers, memorials may be made to MD Anderson Cancer Center, Investigational Cancer Therapeutics Fellowship, PO Box 4486, Houston, Texas 77210-4486 or at www.mdanderson.org/gifts.
http://www.carmichael-whatley.com/obituaries/print?o_id=3529519
Click here to see Sid's last Profile entry.