Pampa High School
Class of 1973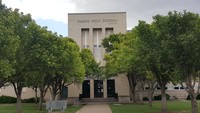 In Memory Of
Sheila McDonald (Brown)
Sheila McDonald Brown
April 16, 1957 - October 13, 2019
Sheila Carol was born April 16, 1957 in Pampa to Billy Joe and Ywachetta Thomas McDonald. She graduated from Pampa High School with the Class of '73. She married James Little Brown on April 29, 1981 in Amarillo. He passed on September 10, 2007. Sheila worked for Amarillo ISD in Special Education.
Besides her husband, she is preceded in death by her parents; and a brother, Tommy McDonald.
She is survived by sons, Jim Brown Jr., Thomas, and Bill Brown; sisters, Cely Campbell and husband David, and Teresa Strickland, all of Ardmore, OK.
A memorial service for Sheila McDonald Brown will be October 16, 2019 at 6:30 PM at 4000 SW 50th, Amarillo, Texas. Hope you can come. (Posted on Facebook by Sheila's sister, Cely McDonald Campbell)