Pampa High School
Class of 1973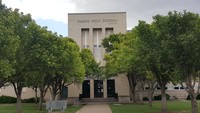 In Memory Of
Jimmy Phillips
James Alan Phillips
February 15, 1954 - April 29, 2011
James was born February 15, 1954 in Pampa, TX to the union of his parents Bennie Frank Phillips and Elaine Pauline Engle. He passed away Friday, April 29, 2011 in Delhi, CA at the age of 57. He was preceded in death by his parents.
James married Sharon Eisenberg on January 7, 1983 in Pampa.
He leaves to mourn his memories his wife, Sharon Eisenberg; sons, James Phillips and Jerrod Lester; two grandchildren; and a host of other family and friends.
James will truly be missed by all who knew and loved him.
Evins Funeral Home in Charge.