Pampa High School
Class of 1973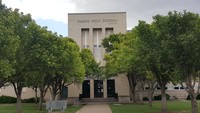 In Memory Of
Debbie Richardson (Sewell) VIEW PROFILE
Deborah Ann "Debbie" Richardson Sewell
October 24, 1955 - May 27, 2023
Deborah "Debbie" Ann Sewell, 67, of Amarillo, passed away on Saturday, May 27, 2023. Graveside services will be 10:00 AM Friday, June 2, 2023 at Fairview Cemetery in Pampa, Texas with Pastor Byron Williamson officiating.
Debbie was born October 24, 1955 in Pampa, Texas to Charles and Alice Richardson. She graduated from Pampa High School, and went on to further her education. She earned her bachelor degree in Education from Southwestern Oklahoma State University, and her master's degree from West Texas State University. Debbie was a highly intelligent person and valued education. She made education her career as a teacher and school counselor. She worked at Pampa, Shamrock and White Deer, retiring in 2013.
In her spare time, Debbie enjoyed traveling. She was a loving Mom-Maw to her grandson Gavin, and she loved spending time with him. Debbie was a strong-willed, independent person. She was very funny, generous and loving. She was a member of First Baptist Church in Pampa.
Debbie was preceded in death by her parents; and a brother, Gary Richardson.
Survivors include her son, Garrett Sewell and wife Kimberly of Texola, OK; her grandson, Gavin Sewell; two brothers, Charles Richardson and wife Jill of San Antonio, TX, and Robert "Mickey" Richardson and wife Zindi of Amarillo; her sister-in-law, Susan Richardson of Wake Village, TX; two very close friends, Kim Lancaster and husband Michael of New Braunfels, TX and Renee Cox and husband Alan of Brenham, TX; and numerous nieces and nephews.
The family suggests memorials may be made to the American Cancer Society.
https://www.coxrowleyfuneralhome.com/obituary/Deborah-Sewell
Click here to see Debbie's last Profile entry.