Pampa High School
Class of 1973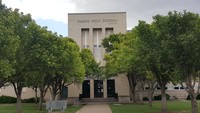 In Memory Of
Kim Wilson VIEW PROFILE
Patricia Kimberlyn "Kim" Wilson
July 18, 1955 - April 14, 1998
Patricia Kimberlyn "Kim" Wilson, 42, a former longtime Pampa resident, died Tuesday, April 14, 1998 in Denver, CO. Services will be at 4 p.m. Thursday in Carmichael-Whatley Colonial Chapel in Pampa with the Rev. John Glover, associate pastor of First Baptist Church, officiating. Burial will be in Fairview Cemetery under the direction of Carmichael-Whatley Funeral Directors of Pampa.
Ms. Wilson was born July 18, 1955, at Lubbock. She had been a lifelong Pampa resident, graduating from Pampa High School. She attended Clarendon College-Pampa Center. She had been a Denver resident for the past six months. She was a nurse's aide and a member of First Baptist Church of Pampa.
Survivors include two sons, Heath Parker of Pampa and Noel Schulz of Boys Ranch; her father and stepmother, Elmer and Phyllis Wilson of Pampa; her mother and stepfather, Patricia and John Hartin of Lake Tanglewood; a sister, Kay Russell of Houston; and grandmother, Drusilla Cosper of Pampa.
Pampa News, April 15, 1998
http://hdl.handle.net/10605/340634 http://hdl.handle.net/20.500.12255/165581
Click here to see Kim's last Profile entry.