Pampa High School
Class of 1973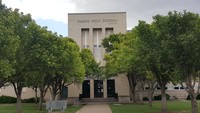 Until we meet again, rest in peace dear friends...
The Comfort and Sweetness of Peace

After the clouds, the sunshine,
after the winter, the spring,
after the shower, the rainbow,
for life is a changeable thing.

After the night, the morning,
bidding all darkness cease,
after life's cares and sorrows,
the comfort and sweetness of peace.
- Helen Steiner Rice
Our classmates who have passed on will always live in our hearts. If you have their obituary, please add it to their profile. If you need help with it, please Contact Us.
If you are aware of a Classmate who should be added to this page please let us know.